New Features in XSeen
Submitted by

Leonard Daly

on Tue, 07/24/2018 - 18:59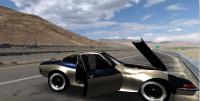 XSeen V0.7rc1 has just been released. It incorporates many new features that make it easier to display 3D and VR in your browser, whether it is your phone or your desktop. Starting with the scene background, you can use your device's camera, a photosphere, or a single color. Initial support for CAD was added with a Triangles and material Asset tags. These allow you to create a model in XSeen from CAD geometry. The display process is assisted with a converter to XSeen from X3D. XSeen continues to be fully compatible with HTML5. You can use your favorite DOM manipulation library including jQuery to interface with the XSeen tags and attributes. Documentation for the individual features and the release are available.
Examples
Credits:
Opel model by Systmh
Nevada pull-out photosphere by Rocky LaLiberte. See XSeen.org for full links.