Cloud Computing Opportunities
Submitted by

Leonard Daly

on Sun, 11/27/2011 - 17:57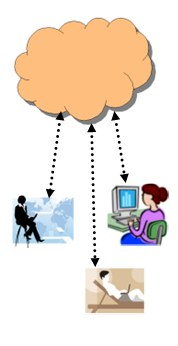 Cloud computing offers small and medium businesses (SMB) many opportunities to reduce computing costs and improve their internal computing operations. The attached file contains the slides from a presentation I made to a group of SMB executives. The discussion below is my slide-by-slide notes. The slides are two per page, and the notes are listed by page number. This posting covers pages 1 and 2. Pages 3 and 4 are at Cloud Computing Opportunities (Part 2).
Page 1:
Today's presentation will be on opportunities for SMBs to reduce IT costs and improve their internal computing operations using cloud computing. I will quickly cover the history of business computing because it helps to explain where it is going followed by a short discussion of cloud computing. I will then discuss some issues involved with cloud computing, then specific opportunities for SMBs.
Page 2:
Business computing has evolved from very centralized main-frame based computing where the IT department controlled all aspects of the computer to a highly distributed model used today. The bullets hit 4 points along the path of the last 30+ years. Every decade (or so) computing has moved further from the centralized computing model to more peripheral computing. The centralized server never went away; it just changed to handle more back-office and non-time critical (overnight) operations. In cloud computing the centralized server is now highly connected (via the Internet) supporting a variety of internal operations. Because the server's network is the Internet, business operations can be supported over a much wider area, including outside sales, inside sales, remote offices, and customers and suppliers. Cloud computing gets its power by using the public Internet and allowing access to company controlled servers. The company can run a large variety of applications on those servers to support the business functions that need to operate (physically) apart from the primary server. Additional servers can be added to the cloud computing network to handle changes in short or long-term business needs. Pages three and four will be covered in the next blog posting at Cloud Computing Opportunities (Part 2).