3D Panoramas
Submitted by

Leonard Daly

on Sun, 06/21/2015 - 10:27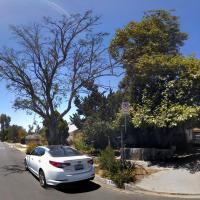 Recent advancements in camera and mounting technology create full panoramas of your environment. These are great for outdoor shots that you just can't seem to capture with a regular camera.
Google has an app for Android and iPhone that creates a 4π steradian (complete sphere) panorama. This is like to old Disneyland ride Circle-Vision Theater, but with a top and bottom. The app is called Photosphere. The app directs you where to take the pictures, then stitches everything together afterwards. Google's intent is that these images are displayed in the Google mapping system. This is fine, but restricts you to displaying your pictures in Google's system.
I have a alpha version using Google's Photosphere that displays in your browser. You can also add any other 3D scene content to the display. This initial version uses a cube as the projection geometry. It contains obvious artifacts from stretching the image in a non-uniform manner. You can see the initial results from a Photosphere I took in front of my house. The next stage is to improve the geometry to reduce those artifacts.